Roofing Services:
New Roofs
Re-Roofs
Roof Repair
Roof Maintenance
Patio Roofing Repairs & Re-roofs
Porch Roofing Repairs & Re-roofs
Carports Roofing Repairs & Re-roofs
Shingles
Polyurethane Foam Roofing
Tile Work
Built-Up Roofing
And more!
Roof Repair & Installation Testimonials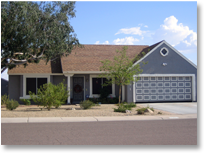 Hays Roofing has built up a long list of satisfied customers. Our roofing work is of superior quality and competitively priced. Read on to hear our company's rave reviews from clients who were not only happy with the quality of our work, but whose expectations were exceeded both by our craftsmanship as well as our customer service. Whether a roof repair or a new roof installation, we can
Hear What Our Customers Have to Say about our Roofing Work
Jarrod,
The work Hays Roofing accomplished for our hotels was outstanding. Not only did you take the time to get the exact scope right, while on the job site, your team was very professional and considerate of our hotel guests and staff during the project.

Our staff also appreciated the daily updates and impact of the work while on site. The product and service Hays Roofing provided has put you ahead of the competition. Thank you and we look forward to working with you again.
- Jo Haubrich
VP of Construction
ZMC Hotels, Inc.
Mr. Hays,
Thank you for keeping up the 'Hays Tradition' my family has enjoyed for so many years! The roof is just gorgeous and your personal care and concern much appreciated.
- Patricia Duncan
I want to thank very much for your assistance and quality workmanship. I will be pleased to serve as a reference for you should you desire such.
- Robert Proebstle
Quality Job! Your roofers were very conscientious and courteous. We will be happy to recommend your services.
- G. Rutherford
Dear Frank Hays,
Just spoke to your lovely bookkeeper and asked her to give me the balance I owed on my roof repairs. Frank, I want you to know how much I appreciate, not only fixing my roof, but the extra effort that all of your folks exerted to work with Geottl on the new heat pump scheduling and install. I know that actions speak louder than words, so I have always believed the best way to demonstrate appreciation is to pay your bill!
Sincerely,
Bob Woods
Dear Frank,
I wanted you to know how much I appreciated working with your company. Everyone from Bill to the roofers was professional and easy to deal with. Most important, I feel that I got an excellent roof at a reasonable price. I will be happy to recommend Hays Roofing to anyone I know who needs a roof. Thank you for your own extra efforts, Frank.
Sincerely,
Eileen Bailey
May I take this opportunity to express my deep felt thanks to Hays Roofing for helping me realize a life long dream! A Tile Roof! Due to the professional people in management, sales, office, craftsmen and artists installers, I have a beautiful, lightweight, lifetime tile roof which enhances the entire neighborhood. I get compliments daily from passers by and neighbors. I have had these different Valley homes and every time I needed a new roof I called Hays . Smart choice, Hays Roofing was here then, they are here now today and they'll be here in the future! I would definitely recommend Hays Roofing to any friend or neighbor.

Thanks again, Hays Roofing, for peace of mind and BEAUTY and QUALITY of my new tile roof. Angel and Manuel's work was just AWESOME!
- Paul C. Hughes, Arizona
Hays roofing did a professional job and has proven their reputation. Thank you, Hays Roofing. Everyone involved has been cordial, professional and expressed great concern for all the improvements that my townhouse needed.
Sincerely,
Yvonne E. Kyseck
Will was here with his helper and completed the job today and when I found that they had left, I went up and inspected the job like any "Do it yourself" homeowner would do and was well satisfied with the work. When my neighbor stopped by I gave out your name and phone one number and explained how happy I was with the work. Good workers and a good job.
- C. F. Floyel
Thank you for a great job!! We appreciate the excellent service and quality of workmanship.
- The Dunham's
Dear Frank,
Just a note to let you know that my new roof was the only one in this area to survive the storm with zero damage! Not one shingle was damaged or lost. My house is in the middle of some of the very severe damage. Thanks for a top-notch job.
- Donald Neal
Dear Mr. Frank Hays,
Thank you for making our re-roofing a pleasant experience. Your workers were friendly, courteous and displayed excellent workmanship. Our new roof looks exquisite. I have also been impressed in your professionalism and friendly service. It's been a pleasure.
Sincerely,
Jan Unruh
Dear Frank,
We wanted to express our appreciation for the excellent job your company did on the re-roofing of our office building. The workmanship was great, everything was done in a professional manner and there was absolutely no mess left behind. Your men really appear to know their business. Thanks again for a job well done.
Sincerely,
H.J. Dankerl
President & P.H. Mercer
Mgr. of Maricopa County Employees Federal Credit Union 10-93'
Thank you so much for handling this quickly and just before a heavy downpour! Thank you for the courtesy from the gracious treatment by the lovely lady handling the telephones to the repairmen.
- H. Backer
Contact Hays Roofing: 602-254-5663
Hays Roofing Inc. serves the following Arizona communities:
Phoenix, Glendale, Peoria, Scottsdale, Cave Creek, Avondale, New River, Paradise Valley, Sun City, and all surrounding areas.